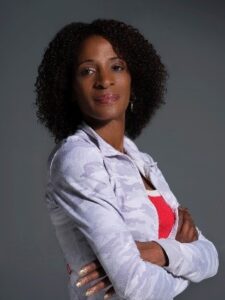 New York, NY – April 27, 2023 – WE tv, AMC Networks' destination for compelling unscripted television, today announced the greenlight of Breaking The Ice. Produced by Sirens Media, the 8-episode docuseries follows Washington DC-based ice skating champion, Rory Flack, and her groundbreaking journey leading the first all diverse, competitive synchronized ice skating team. The series will debut this summer exclusively on WE tv and sister streamer ALLBLK.
World-renowned figure skater Rory Flack is no stranger to slicing through barriers, as the first African American woman to win the US Open Professional Figure Skating Championships. The figure skater-turned-coach is now spearheading Team DMV, the first all diverse, competitive synchronized skating team striving to make it to the Ice Sports Industry's (ISI) national championship. The team is comprised of 10 middle and high school girls who are up for this challenge. Together, they endure rigorous training on and off the ice, and must manage team dynamics, as well as outspoken parents and skating rivals. On their way to Nationals, Team DMV is defying the odds: will they navigate the inherent danger of the ice and avoid injury? Or push through the obstacles…ultimately, Breaking The Ice!
Breaking The Ice is produced for WE tv by ITV America's Sirens Media. Mioshi Hill, Tim Cohen-Laurie and Wendi Wan executive produce for Sirens Media; Jon Crowley and Burt Kearns also serve as Executive Producers. Angela Molloy executive produces for WE tv.
###
About WE tv
With compelling, can't miss unscripted shows, WE tv's programming is fueled by personalities and relationships filled with purpose and passion. WE tv welcomes everyone and creates an inclusive experience across all platforms: on TV, online, on demand, and social media, embracing how today's digitally savvy, socially engaged audiences connect through content, using it as a catalyst to drive conversation and build community. Further building on this mission, current WE tv originals are now available to stream on WE tv's sister platform, ALLBLK. WE tv is owned and operated by AMC Networks Inc., and its sister networks include AMC, BBC America, IFC, SundanceTV and streamers Acorn TV, ALLBLK, AMC+, Shudder and Sundance Now.
About Sirens Media
Sirens Media, an ITV America company, is an award-winning, full-service production company run by TV executive Mioshi Hill, who serves as president. Based in Los Angeles, Sirens has created hundreds of hours of unscripted content for myriad broadcast, cable and streaming platforms, focusing on storytelling with an "edgy" sensibility and pop culture roots. Sirens' series and specials include Bravo's long-running hit The Real Housewives of New Jersey as well as TBS's Lost Resort, Snapchat's Nikita Unfiltered and Honestly Loren, and Netflix's The Wedding Coach. Additionally, Hill and Sirens have series in development for NBCU, Freeform and many others.